Caulking Services Bring New Life to Stained Shower Tiles in Naples Home
April 14, 2016
One of the best ways to wake up in the morning is by taking a shower - this is even more enjoyable when you have a beautiful master bathroom. Unfortunately, for the homeowner, this routine had become anything but enjoyable. His luxurious shower was now a shadow of its former self. It used to look elegant and spotless when he first moved in, but recently, every morning when he took a shower, he started to realize that the tiles appeared stained and opaque and that the grout was dirty. Determined to restore the tiles to the condition they were once in, he decided to clean them himself with common cleaning products, yet the results were disappointing. The tiles seemed to be unaffected by any kind of cleaner, but more importantly, he was worried that the caulking around his shower was beginning to crack. The homeowner decided to go online and search for
Naples caulking services
. Luckily, he found Sir Grout of Southwest Florida. He was pleasantly surprised to see that they offered the services he needed and contacted them immediately.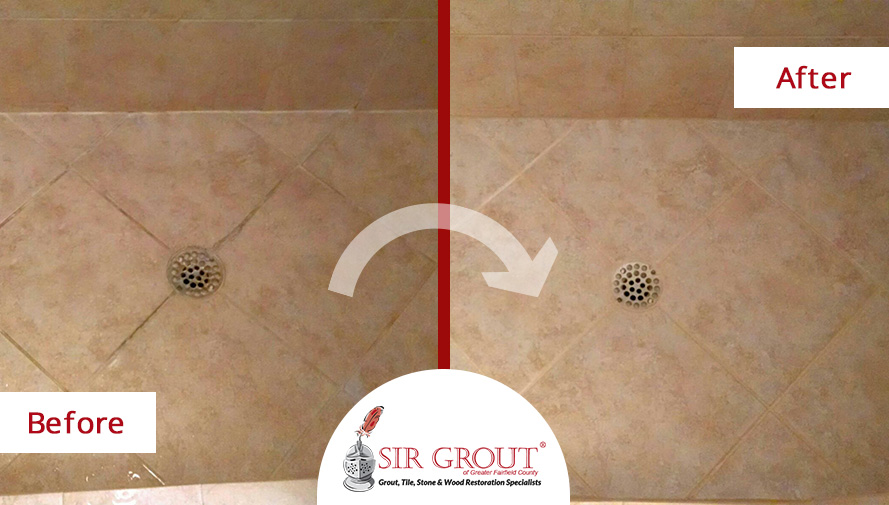 Shower tiles are especially susceptible to humidity - these conditions cause mold and mildew to grow into the grout. This not only makes your shower look dirty, but it can also be very unsafe. Even though small amounts of mold and mildew are not harmful, it's important to solve the problem as soon as it appears to avoid costly repairs and potential health problems caused by mold spores. Caulking around the shower can be affected by these conditions as well, as it can crack and dry up, which can cause severe water damage if it isn't repaired urgently. Moreover, time causes tiles to gradually discolor due to the build-up of soap scum and other products used in the shower. Fortunately, our customer found Sir Grout's services just in time.
Upon arriving at the customer's home, Sir Grout's trained, professional team did a thorough inspection of the homeowner's shower and found that it was necessary to remove the weathered caulk and deep clean the shower tiles. The team was ready to start the job. They proceeded to apply STAINMASTERŽ epoxy caulk to renew the weathered caulk. Then, they applied a pH-neutral cleaner along with a high-speed gentle scrubber to remove the tile stains and extract the dirty grout. However, the job was not yet done - our team of professionals decided to apply ColorSeal in a light shade that matched the tiles to make the grout lines look clean and refreshed. The professionals of Sir Grout were extremely satisfied with the finished job - the shower was finally restored to its former elegance.
The team invited the homeowner to inspect the results, and he was in awe of how his shower looked even better than when he first moved in. It was transformed from looking dirty and unhygienic to new and sophisticated. He was so satisfied with the job that he said he would 100% recommend Sir Grout's caulking services, characterized by professionalism and efficiency, to homeowner's with similar problems.
Tile and grout maintenance can be very simple and easy to do at home. A good tip, especially for shower tiles, is making sure the shower stall is well ventilated to avoid stagnant water breeding stain-causing mildew and other fungi. Also, it's important to make sure that all corners are caulked with mildew-resistant caulk. Another helpful tip is to apply a pH-neutral soap-less floor cleaner to your tile and grout and let it soak for about 5 minutes, then mop as usual. Remember to avoid acid-based cleaners, as these can both damage and affect the color of the grout.
When the caulk around your shower starts to dry or crack, don't let it get out of control. If you need caulking services in Naples or surrounding areas, fill out the form below to contact Sir Grout for a free evaluation today! You can also find us on Facebook at Sir Grout SW Florida, on Instagram @sirgrout and follow us on Twitter @SGSWFlorida.