5 Ways a Tile and Grout Cleaning and Sealing Can Help Restaurant Owners Avoid Costly Fines
November 03, 2022
The secret to being a successful restaurant owner is offering an exceptional service and keeping your customers happy. It sounds easy, but it actually requires a lot of work.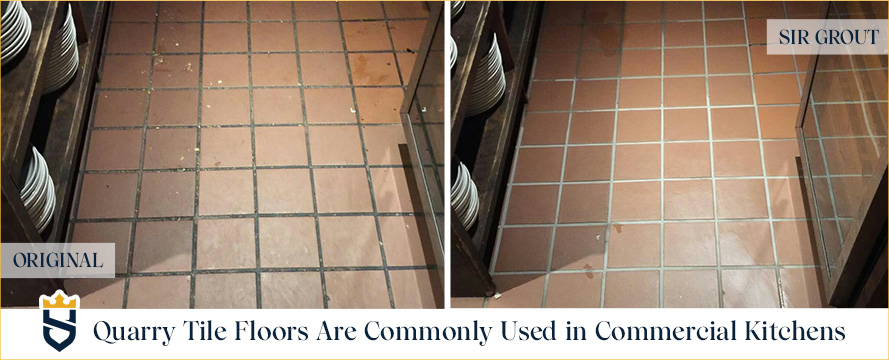 It's not only about providing great meals at a great price; a key element to keeping your customers and regulatory agencies satisfied is having a clean restaurant, especially, clean floors, including the ones that the clients don't see.
The kitchen is one of the most important areas of a restaurant and, as such, it must be kept in immaculate condition. With all the cooking and work that takes place there, it is inevitable for many areas to accumulate grease and dirt, especially on quarry tile floors commonly used in commercial kitchens.
Sometimes mopping with degreasing soap is not enough but although it may seem impossible to maintain kitchen floors in optimum condition, a proper
tile and grout cleaning and sealing
can help you achieve this while keeping your customers delighted and avoiding costly fines.
One of the most difficult things restaurant owners and staff must deal with is keeping the kitchen clean. Kitchen floors can be particularly difficult to maintain, as both tile and grout tend to collect significant amounts of grease, giving the kitchen an unaesthetic look and attracting flies, roaches, and other insects.
Grease buildup may get out of hand, as you can see in the picture above. The good news is that a tile and grout cleaning and sealing job can transform any kitchen floor and make it easier to maintain.
It's no secret that restaurants get inspected from time to time to make sure that they are in overall good condition. If a restaurant does not comply with the minimum sanitary standards, it could get costly fines, and it can even be shut down.
Below, you will find five simple recommendations to help you keep your restaurant hard surfaces in optimum condition.
Eliminate grease from tiles and grout
One of the problems with grease buildup is that it can attract rats, flies, and other vermin, creating serious sanitary problems, which could lead to costly fines. To prevent grease buildup or dissolve and eliminate grease, you can use a degreaser. However this may not be enough. Most times deep, thorough cleaning and even vapor steaming are necessary to safely and completely remove embedded grease and grime. This will also help you eliminate vermin.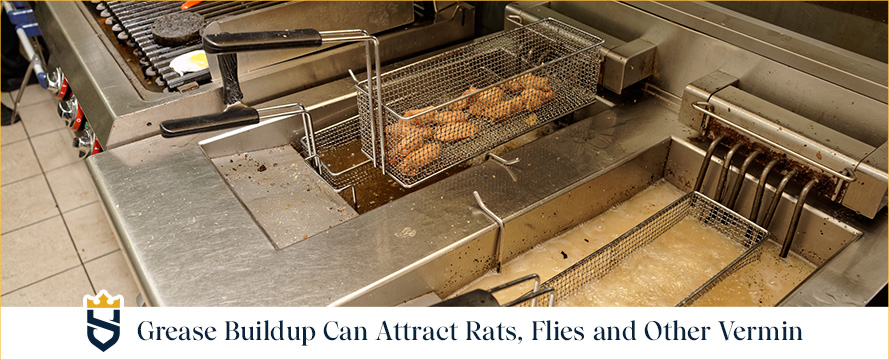 Also, be aware that water and grease on kitchen floors increase the risks of slip and falls, which can lead to staff accidents and the consequent loss in workforce and workers' compensations.
The same applies to the dining room where a slip-and-fall can possibly cause customers to file lawsuits. These risks can be minimized by applying a slip-resistant solution like Sir Grout's Slip Armor. Read our article about the
menaces of slippery floors
to learn more.
Make sure your grout is in good condition
Another important thing to always consider is the state of your grout. Missing grout in the kitchen can have costly consequences since layers of thick grease can deposit in the cracks and hide the fact that there's missing grout.
As more layers of grease accumulate, they can become harder to remove. You may even need an electric grout saw to remove the built up grease and damaged grout, and then you would have to regrout.
On the other hand, the restaurant's restrooms are constantly exposed to high foot traffic and humidity, these are the cause of several types of unaesthetic problems, such as mold and mildew, stains or dullness on vanity tops and floors, and dirt buildup in grout lines. These will affect not only the perception customers have of your restaurant but also inspections outcomes.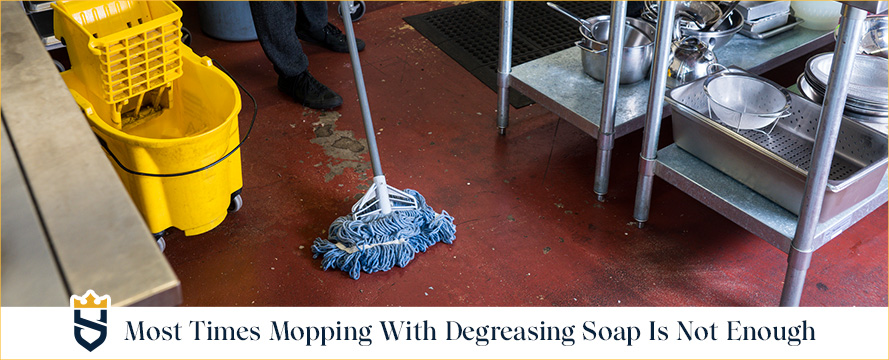 Use the right cleaners for your floor
We can't stress enough how important it is to use the right cleaners for your floor. People just go to the grocery store and buy an all-purpose cleaner for their floor. However, each floor has its needs, and that is why you see different types of cleaners at the store.
While degreasers are the ideal choice for restaurant floors, they have strong chemicals that you should only use occasionally. After eliminating the grease buildup and having your tiles and grout sealed, you can switch to less aggressive cleaners. Consult with professionals to decide which products are best for your restaurant's floor.
Seal your tiles and grout
Sealing your floor's tiles and grout with an impregnating sealer makes them water- and oil-resistant, which prevents grease from settling into them. The best benefit of applying a sealer is that it makes cleaning easier, and since it helps prevents grease buildup, flies and other unwanted insects tend to disappear. The perfect recipe to prevent costly fines!
Hire a floor maintenance plan
Keeping your kitchen floor clean can be quite difficult, especially if it's a restaurant with a high volume of clients. With our
commercial services
, you can prevent money losses related to neglected hard surfaces. Also, your restaurant's floors will look like new and be easier to maintain.
If you want to take your restaurant's cleaning and maintenance to the next level, you can benefit from our
maintenance
plans, which include monthly, quarterly, semi-annual, and annual programs that will suit your restaurant's needs. Let us do the hard work while you enjoy running your restaurant.
Maintaining your restaurant's floor in optimum condition doesn't have to be your worst nightmare. A tile and grout cleaning and sealing service can make maintenance a piece of cake. Contact our hard surface restoration experts to prevent getting costly fines!
Call us at
(239) 322-3984
or click on the "Schedule a Free Quote" button on this page to contact Sir Grout SW Florida for a free evaluation today and enjoy an unparalleled service! Also, don't forget to subscribe to our
newsletter
to keep reading useful tips to help you take care of your hard surfaces.