A Dingy Floor in Fort Myers, FL, Was Restored Thanks to Our Grout Sealing Services
October 30, 2023
Many homeowners struggle trying to restore grout with DIY guides and store-bought cleaners. These methods won't provide satisfactory results due to the extent of the damage, and the solution might require professional attention. A resident of Fort Myers, FL, had a dingy floor. Over the years, the surface decayed, and the grout lines appeared dirty and run-down. Despite her cleaning attempts, the problem persisted, and nothing she tried worked. Frustrated, the owner considered her options and decided to seek professional assistance.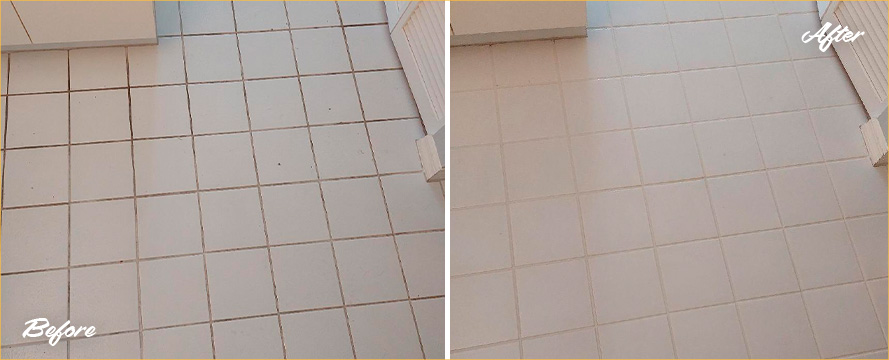 Thankfully, she found Sir Grout SW Florida. One of her friends was a loyal client, and when she asked for advice, he highly recommended our
grout sealing services in Fort Myers, Florida
, saying we were the best in town. The owner followed his suggestion and went online to find more information about us. After browsing our website, reading some of our blogs, and going through the excellent reviews we receive daily, she was convinced we were the right choice. Hoping to solve her problem, she requested a free evaluation.
We promptly responded to her request and provided the in-home consultation. The owner greeted us, and we began the assessment. Upon entering the area, we immediately noticed several issues. The grout lines had an unsightly tone, and the tiles appeared shabby and unappealing. As a result, the surface had an unsanitary appearance. Additionally, the grout required sealing. This is a porous mixture that can absorb external agents, which can lead to further damage. Therefore, it was crucial to apply a special sealant to avoid any further deterioration.
After successfully discerning the problems, we discussed a solution with the owner. We concluded that the restoration would require professional treatment, so we offered our grout sealing services. Our outstanding renewal process would address the damage, revamp the surface, and give the surface a resilient shield. Before providing a quote, we conducted a brief test to demonstrate the effectiveness of our methods. The results were amazing, so the owner hired us for the job without hesitation.
A few days later, we returned to begin the job. Our process involves several steps that guarantee excellent results. First, we cleaned the floor using our exclusive cleaner, which is made with high-quality ingredients and leaves no residue, preventing any damage to the surface. After accomplishing the initial goal, we proceeded with the grout repairs.
When this vulnerable component is severely damaged, stained, or discolored, regular cleaning methods may not achieve the desired results. It can become a frustrating and time-consuming task that homeowners would rather avoid. Thankfully, Sir Grout SW Florida has the expertise and necessary tools to fix any damage to the surface. We worked diligently to revamp the grout lines on the floor, giving them a fresh new look. For the final step, we sealed the surface with Sir Grout's flagship sealant, ColorSeal, to ensure long-lasting protection.
ColorSeal is a top-quality product that provides excellent protection against dirt, grime, and other external agents. It reduces wear and tear and makes cleaning routines easier. ColorSeal also gives the grout a uniform color, greatly enhancing the surface's appearance. Our sealant comes in a wide range of colors, making it easy for our customers to match their tiles with the grout.
After completing every step with utmost care and attention, we achieved an astonishing transformation. The surface was revitalized and the floor looked stunning. We immediately called our client to show her the results. She was extremely pleased with the renewed appearance of the floor and was impressed with our efficient restoration process. Happy with our work, she thanked us and assured us she would recommend our services to everyone.
Tiled surfaces in busy areas endure heavy wear and tear, which can cause damage and decay over time. To keep these surfaces in top condition, it's crucial to follow our recommendations for proper care. We recommend setting up a weekly cleaning routine using only pH-neutral products, such as
Sir Grout's Natural Hard Surface Cleaner
. Our product offers top-notch quality and many benefits, far surpassing any other option on the market. It is also non-toxic and safe for everyone in the house, including pets.
We don't recommend using soap-based cleaners or acidic substances. These products contain harsh agents that can damage the surface. Additionally, they leave behind a sticky foam that can seep into the grout, leading to stains, discoloration, and other issues. Always use clean mops when cleaning the area and make sure to prevent foot traffic on the wet surface. Allow the floor to dry before entering the room again, and avoid using abrasive tools as they can leave scratches.
Are you struggling with the maintenance of your floor? Don't worry, Sir Grout SW Florida's grout sealing experts can help you. Contact us today by calling
(239) 322-3984
or by
scheduling a free quote
and say goodbye to your dingy surfaces. If you want to see more, check out our
picture gallery
. Please consider subscribing to our
newsletter
so you don't miss our latest promotions and updates.