Are Your Stone Countertops Looking Dull? A Stone Countertop Sealing May Be the Solution!
October 28, 2022
When it comes to the design of a house, homeowners mainly think of two things –style and functionality. An owner wouldn't completely ignore the appearance and style of his or her home just for the sake of usefulness.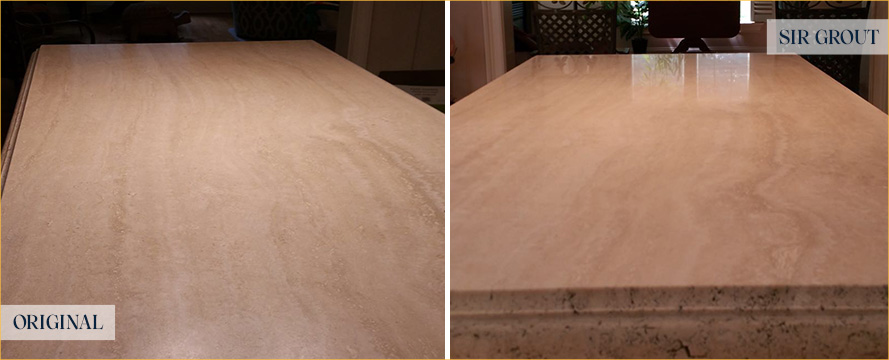 This generally applies to the entire house. A special room in every home is the kitchen. It is a place for the entire family to gather, eat, and talk. It is one room where homeowners put a lot of effort in combining style and functionality, along with the resilience kitchens need to withstand their constant use. What is more resilient and stylish than stone? This is why stone surfaces are very popular among homeowners.
However, some people tend to think that stone doesn't require any maintenance, which is not true. In fact, using the incorrect cleaning products can result in dull surfaces, especially on surfaces frequently used like stone countertops. Fortunately, a professional
stone countertop sealing
can help you regain the splendor of the stone.
But how do you know if the maintenance methods are helpful or harmful? Here are some facts about stone types and how to take care of them.
Know the Type of Stone You Have
Before taking any action, it is necessary to identify what type of natural stone you have—their characteristics will tell you the best course of action. The type of stone generally depends on its composition. For example, we can find siliceous stones – granite, slate, sandstone, and quartzite, among others.
This kind of stone is mainly composed by silica or quartz-like particles. A countertop made of a siliceous stone is very durable, and it is rather easy to clean—it can even tolerate mild acidic cleaners. However, it is important to consult a professional about which cleaning product is best to use.
Another type of natural stone is calcareous. Its main component is calcium carbonate. Some common types of calcareous stones include marble, limestone, onyx, and others. This stone is highly sensitive to acidic products.
Some stones are more popular than others. Homeowners seem to prefer granite, limestone, and marble for countertops for obvious reasons of appearance, versatility, and durability. If properly taken care of, these stones can last several decades.
You might be wondering, "how can I find out what type of stone I have in my house?" Let's review each type of stone so you are able to identify which one/s are in your home.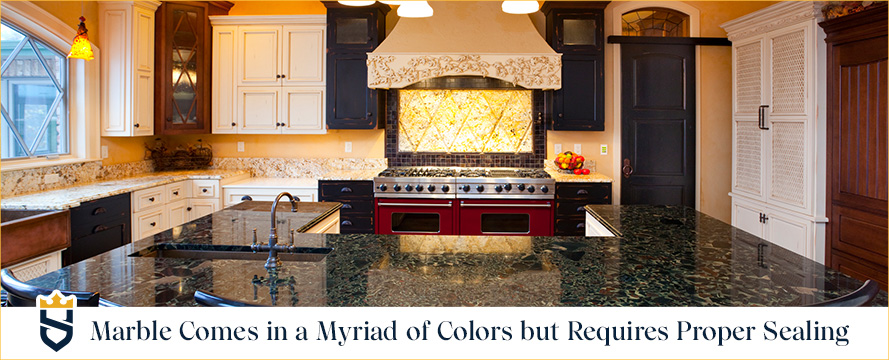 Marble: This beautiful and stylish stone is classic and elegant. It is a metamorphic rock, it has a tight structure with small pores making it very sturdy and solid. Marble comes in myriad of colors, which dramatically contrast with its natural veins. You have a lot to choose from. It has limited porosity and can take a high polish.

Now, pay attention. Even though this stone is durable, it requires special care. Mainly composed of calcium carbonate, it is highly susceptible to acidic substances. This chemical reaction can result in the dissolution of the stone, leaving an unappealing etch mark on the surface. So, be careful with citrus fruit juice, wine, and other acidic spills on your countertop.

Besides etching, marble can show other signs of deterioration. Depending on time and usage, marble can chip, scratch, stain, crack, peel, and even crumble. With this in mind, it is imperative to consistently check the state of your marble surfaces, especially the sealing. If you notice any of these signs, it is strongly advised to search for professional help before it's too late.



Granite: This natural stone is wonderful and earthy. It combines the right amount of durability and beauty. No manmade creation can duplicate its elegant and natural colors. However, man can surely cause a lot of damage to it, especially in busy areas like kitchens.

As opposed to calcareous stones, this siliceous stone is more resistant to acidic solutions. However, your granite countertop will reveal other signs of damage when something is wrong. Efflorescence, for example, could be evidence of a water problem or salt migration within the stone tile; though it can also be the result of frequent exposure to hard water.

Inappropriate cleaning methods can also cause efflorescence on granite. Keep an eye on any chalky areas to prevent further consequences. Also, pay attention to the cleaning product and method you've been using. Double-check if it's compatible with granite countertops. Other symptoms of granite deterioration can be peeling, chipping, flaking, staining, and scratching.


Limestone: This useful and beautiful sedimentary rock brings uniqueness and elegance to any kitchen. It is composed of small fossils and shells, which can sometimes be noticed by the naked eye. Limestone is classified as a siliceous stone, granting it the characteristic of solubility when subjected to acids.

Sometimes, limestone can be confused with marble. The truth is that limestone is a sedimentary rock—it has a higher level of porosity—while marble is a metamorphic one. Metamorphic rocks are subjected to a higher pressure, undergoing a process of crystallization, making them less porous.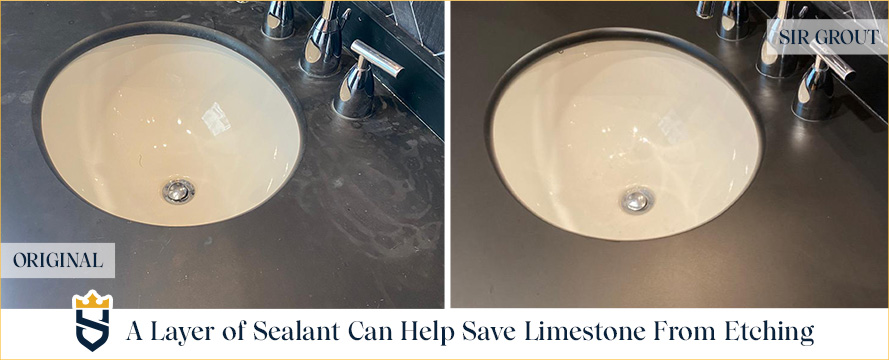 This information is crucial when choosing the correct maintenance methods and products for your countertop. Even if the stone is used for decorative purposes, it is necessary to protect it. Despite its durability, it can worsen due to time and use. A layer of sealant can save you from having a dull, scratched, and unappealing surface.
Make sure to hire highly trained professionals who have the experience and knowledge to identify different kinds of stone. They will restore the former glory of your stone countertop as well as provide accurate care tips to prevent further damage. Here are some general measures you can put into action to help preserve the state of your countertop.
Keep It Dry
Keep your surface as dry as possible! Remember that every stone is, to some degree, porous. Even though they are very small, water will find a way to seep in. If you let it settle, you could face a water problem later. Using coasters under glasses and jars is a good idea, especially if they contain citrus fruit, wine, vinegar, or any other acidic substance. Remember, they can leave an etch mark on certain types of stone.


Keep It Cold
Stone countertops tend to maintain low temperatures. It is necessary to place mats under hot pans and dishes. A drastic change in temperature could lead to cracking. Likewise, high temperatures can damage the sealant of your countertop. An unprotected stone surface is more prone to seepage, etching, staining, and more.



Keep It Smooth
Pay attention to your cooking methods. It is imperative to use cutting boards all the time. Whether you're chopping vegetables or making cookies, keep your stone surface protected from scratches.


Keep It Sealed
A high-quality sealant will save tons of problems. As we stated before, sealing your stone can prevent all sort of deterioration signs. For that reason, it is important to check the state of the sealant frequently. Just place some drops of liquid on the stone. If the liquid beads, the sealant is properly working. If the stone absorbs the liquid, a new layer of sealant needs to be applied as soon as possible.

There are different kinds of sealant. Choosing the correct one is also important; you can find topical sealers or coatings that remain on the surface of the stone. Coatings are specifically used to protect the stone from stains and spills. The problem is that they are mainly made of wax, which attracts dirt and forms a layer that gives the stone a grimy look.



Other kinds of sealants are impregnating. They are mostly water- or solvent-based solutions that penetrate the stone, sealing its pores. The best part is that they enhance the natural colors of the stone, without sacrificing the appearance or the protection. Make sure you leave this procedure to qualified professionals.
However, if deterioration signs are already visible on your hard surface, don't worry! It is possible to regain the natural elegance of your stone countertop by hiring a hard surface restoration company. They will surely offer you all the necessary
stone services
to revive your surface.
If you want to keep your home's countertops in tip-top shape, a professional stone countertop cleaning and sealing service is the best solution for you.
At Sir Grout SW Florida, we have professionally trained staff ready to provide you with the best services at a fair price. For more information, click the "Schedule a Free Quote" button on this page or call us at
(239) 322-3984
. We will gladly assist you.