Discover Our Top 5 Most Popular Natural Stones for Homes and How to Keep Them Perfect
September 30, 2022
When it comes to home decoration, there's no material like natural stones. The right type of stone can make a room look modern, traditional, vintage, minimalist, classy, rustic, or medieval.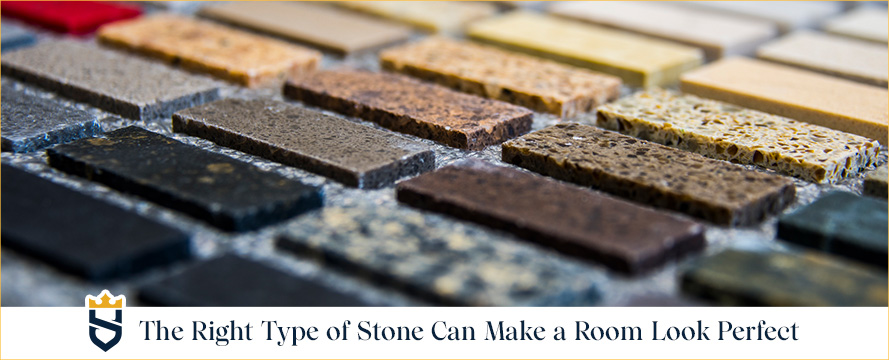 There are endless possibilities for home design ideas based on this natural resource, whether it's marble, slate, or travertine. Nonetheless, it is important to know which are the most popular uses for each stone so you can choose wisely when installing new surfaces in your property. That way, you will know what kind of maintenance your floors require, such as
stone cleaning and sealing services
.
There are many different types of natural stones, but here is our list of the five most popular ones as well as their common uses in homes:
Marble
Marble has been a symbol of luxurious, artistic, and beautiful creations for centuries. Indians used it to build the astonishing ivory-white marble mausoleum known as the Taj Mahal, and Italian artist Michelangelo carved his 17-feet masterpiece David from it too – a lot of mankind's relics are made with this rock, so it's understandable why we would want it in our homes.


But beyond that, marble has convenient features that make it an excellent choice for kitchen countertops, stair treads, bathroom vanity tops, and flooring. This elegant stone is usually veined and comes in several colors. Also, thanks to its structure, it can take a very high polish compared to other natural stones.

On the downside, marble is a highly soft stone; therefore, it can be scratched, cracked, or chipped easily. Additionally, since it is composed of calcium carbonate, marble is sensitive to acidic substances and cleaning products, which can cause it to lose its shine. Also, marble is considered a very porous rock, and it is prone to etching and staining.

In brief, when it comes to this gorgeous stone, the owner must be aware that whether it is a bathroom or a kitchen countertop, the marble will need periodic maintenance, such as regular sealing and polishing. Fortunately, in the case that your marble surfaces deteriorate, there are different kinds of restoration services that can help bring its shine back.


Granite
Granite is not only one of the hardest natural stones in the world, it is also unique since no slab is ever the same as another, being impossible to replicate. We can see granite in paving, bridges, or historical monuments like Mount Rushmore in South Dakota.

In homes, this strong rock is mainly used for kitchen countertops, although it is often seen in floors, showers, wall panels, or backsplashes as well. Granite, like marble, evokes elegance and quality; its distinct crystal patterns can come in black, white, green, blue, gray, brown, and even pink.


Homeowners tend to choose granite for their kitchen or vanity tops because of its durability. With proper care, granite can last forever: it withstands high levels of heat, has little porosity compared to other stones, and it's stronger than steel. Knives, for example, cannot scratch it, although certain silver, ceramic, or diamond objects can.

Even though this stone is considered long-lasting, it can still become cracked, stained, or damaged. Granite's greatest weakness is, like any other natural stone, porosity – oil, grease, water, and chemicals that can penetrate its surface, causing stains and etching. However, it's nothing that regular sealing and maintenance services cannot prevent.


Limestone
The color shades and grades that characterize limestone makes this natural rock, among other features, a popular home design choice for countertops, bathroom walls, floors, and fireplaces. Why? Mainly because of five reasons: versatility, durability, dependability, consistency, and cost-efficiency.


Limestone is a soft rock, so it can be shaped and carved with interesting and special designs. It is a great, long-lasting option – the 2.3 million limestone blocks that form the Great Pyramid of Giza in Egypt prove it. In fact, this natural stone is a recurring option in architecture for the construction of important buildings, such as museums, courthouses, or churches. Also, unlike marble or granite, limestone tiles come in uniform colors and shapes, which makes it a more consistent and traditional option. Lastly, in comparison with other natural rocks, it is a less expensive alternative for an elegant home design.

Nonetheless, as any other natural stone, limestone needs care. Being a soft rock makes limestone prone to scratching, chipping, and cracking. Stains and deterioration caused by weather conditions or moisture are other usual problems.


Travertine
Travertine is an extremely popular choice for countertops and home flooring, although it is often used in showers or exterior designs too. Its colors vary from white to grayish, reddish, or even yellowish shades, such as the travertine of the main pillars and external walls of the Colosseum in Rome. If you're looking for an interesting, bold, and original pattern, then travertine tiles are ideal for you.


However, as a carbonate rock, travertine is highly sensitive to acidic substances, so it should always be cleaned with a pH-neutral cleaner. Furthermore, this stone is very porous, and liquids like wine or juice can cause staining and discoloration of the tiles. To prevent severe damage, always make sure to seal your travertine surfaces on a regular basis. If your travertine floors show dull and scratched you can always count on a honing and polishing service to restore them.


Slate
Each one of these five natural stones has distinctive characteristics that can match different tastes and purposes. Slate, a fine-grained metamorphic rock that has been used for centuries, is last but not least. The natural and unique surfaces one can create with the wide variety of slate makes it one of the most popular in the market.


Slate absorbs minimal moisture and reacts well to freezing water; it's a low-maintenance, durable, heavy rock that can provide good protection. For all those reasons, this long-lasting stone is primarily used in roofing, though it's also commonly used in flooring, especially for patios or sidewalks.

Slate tiles come in a variety of colors and several shades that are often arranged for multi-colored, original settings. However, this unique rock also needs regular maintenance since excessive foot-traffic, natural elements, or wrong cleaning methods can make it look damaged and unattractive over time.

Choosing one of these five natural stones for your new floor or vanity top will surely improve not only the beauty of your property, but also its value. For this reason, knowing the main characteristics of each stone will help you pick the best one for any surface in your home. Also, what may work for one type of stone, may not be suitable for others; knowing the properties of your stone surface can help you prevent severe deterioration problems.
Do you have one of these stones in your home and think they may need restoration? At Sir Grout SW Florida, we offer services for all of them! From marble, granite, and travertine honing and polishing to
residential stone cleaning and color enhancement
, we have the solution to your hard surface problem!
For more information about our services, call us at
(239) 322-3984
or click on the "Schedule a Free Quote" button on this page to contact Sir Grout SW Florida for a free evaluation today! If you want to keep reading wonderful tips to care for your hard surfaces, don't forget to subscribe to our
newsletter
.