Is It Necessary To Seal My Stone, Tile, and Grout in Newly Built Homes?
July 27, 2023
Whether it's your first or one of many, buying a recently constructed home is an exciting time for anyone.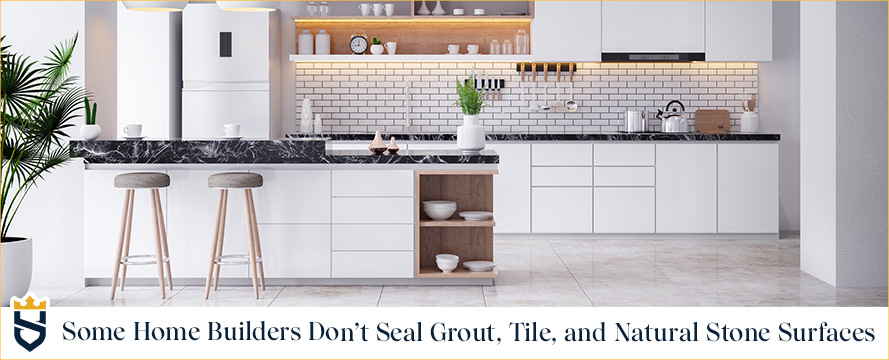 Before moving in, it helps to have someone review the homebuilder's work to ensure the home is 100% ready for move-in. They'll make sure the builder didn't forget anything, and they can identify infrastructure issues to prevent problems in the future.
Another thing you'll want to do is ask the home builder if there is a new construction home warranty, and if so, what's covered in it and for how long.
But here's what some construction companies won't typically cover after they build a home.
What They Don't Mention About Your Newly Constructed Home
After building residential homes, some construction companies
do not seal the tile floors and grout or natural stone floors and countertops
. That means your home's brand-new hard surfaces aren't protected for the long run.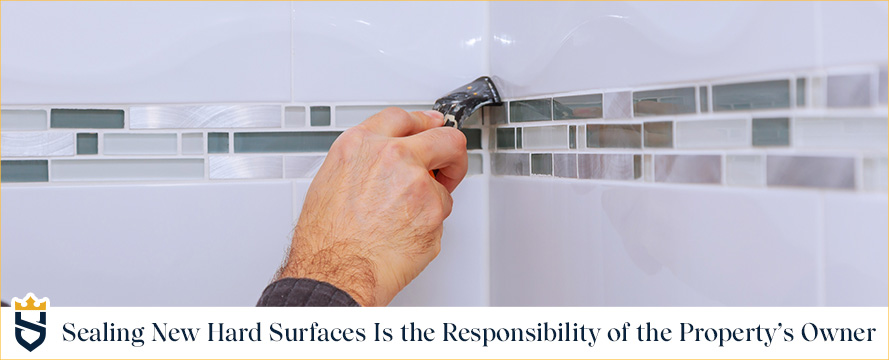 Construction companies build homes to code to ensure the structural integrity is sound and safe for habitation.
During construction, they might not take the time or have the responsibility to apply those finishing touches to your tile, grout, or natural stone countertops and floors. And the same goes for bathrooms; they install them to plumbing code so they don't leak.
And if you want them to seal and protect your hard surfaces, they're going to charge you extra for it. Some larger home building companies flat out won't do it and will refer you to seek help elsewhere.
The responsibility of deep cleaning and sealing tile and grout and other hard surface areas is up to you as the homeowner.
So before moving in, or as you get settled in, let's show you why it's necessary to seal any stone, tile, and grout in your newly built home.
Why It's Necessary To Seal Your Tile and Grout
A strong majority of homes have ceramic or porcelain tiles installed. And wouldn't you want your brand new floors looking their best for as long as possible?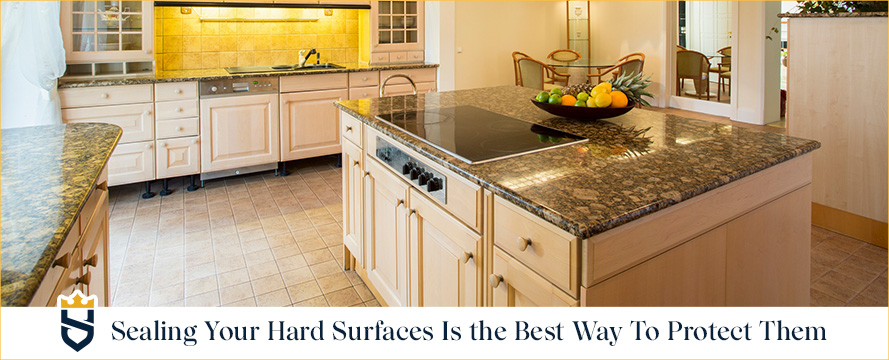 To make that happen,
grout sealing is necessary after the installation of new tile floors
.
Whoever installed your floors most likely did not seal the grout because it needs time to harden and cure completely. But that's not
really why
they didn't seal it.
Think of the deadlines that contractors have to meet as they build entire neighborhoods. It drives costs and time to clean and seal every grout line, tile or stone surface, etc.
It's up to you to clean, seal and preserve your brand new tile floors and grout for the long term—starting with your grout.
Most tile floors have unsealed cement-based grout installed. Not to get sciency here, but cementitious grout is porous. That means there are tiny holes within the grout's material that can trap tiny particles inside.
Unsealed grout starts to trap dirt and debris, and it'll stain it over time and look unappealing. Also, unsealed grout can absorb spills easily, leading to mold and mildew growth.
Think of all the areas in the home that have the most foot traffic, the places where spills are more likely to occur, and where puddles of water are likely to happen.
Sealed grout protects it from those outside elements, bacteria growth caused by moisture, and spills that cause staining. Not only that, sealed grout helps strengthen it and slows down the wear and tear process.
Should Bathroom Tile and Grout Be Sealed?
Even your newly built bathrooms should have the tile floors, and grout sealed. And don't forget the shower walls and its floors as well.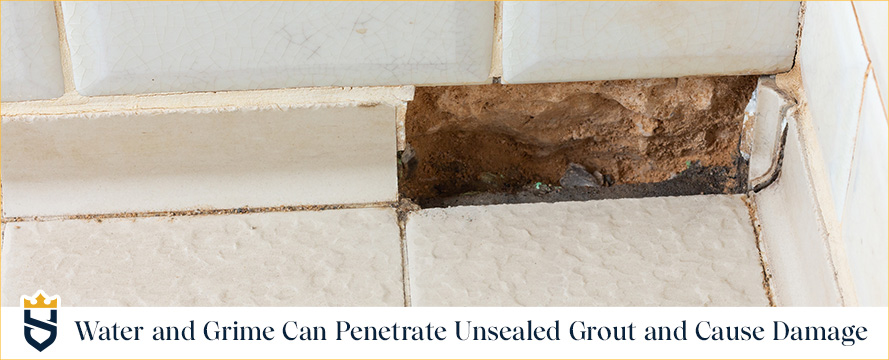 Bathrooms experience the most moisture content in the home, and water plus unsealed grout do not go well together at all.
Slowly but surely, water and grime can penetrate unsealed grout, causing tiles to crack or break.
Some bathrooms have stone tiles or other types of masonry, and if left unsealed, they form efflorescence. The white chalky stuff you see dried onto shower tiles and grout.
Efflorescence is a collection of salts and minerals extracted from the stone as water penetrates it. Once these minerals dry, they leave behind these salty growth stains on porous surfaces like your stone, tile, and grout.
Do Certain Tiles and Grout Have To Be Sealed?
Now should the tile's flat surface be sealed? Well, it depends.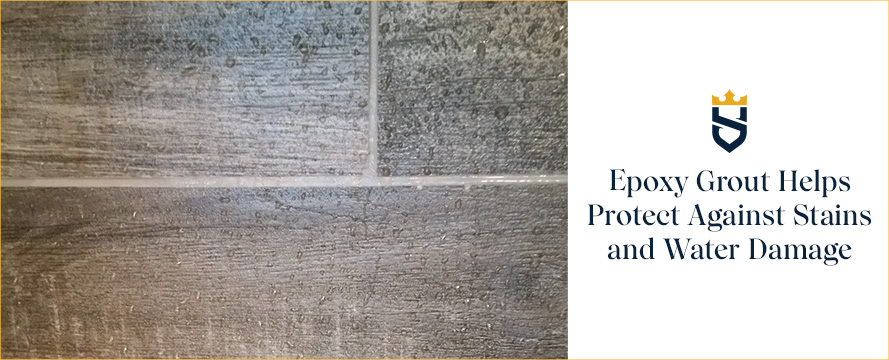 Most ceramic tiles are finished with a durable glaze, so there's no need for sealing—only the grout. The protective coating repels water off the surface and helps protect it from discoloring.
But porcelain tiles aren't typically coated with a durable glaze. They should be maintained with a sealer to help protect the tile's surface.
Not every type of grout needs to be sealed either. Epoxy grout is non-porous, doesn't need to be sealed, and is applied on hard non-porous surfaces.
Epoxy grout helps protect against stains and water. It's made of flexible material that doesn't crack or chip easily.
It's pretty versatile too. Epoxy grout can be used in place of existing cement-based grout for most types of tile, including porcelain, ceramic, and natural stone floors.
Do you have brand new stone floors or countertops installed? Are you wondering if those surfaces need to be sealed and their grout lines as well?
Let's talk about it.
Stone Floors and Countertops Should Be Protected
New homes feature a variety of stone surfaces that complement the interior of any room.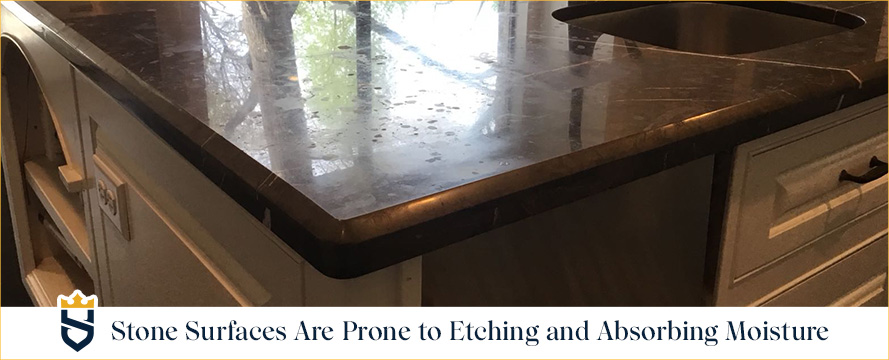 You've got marble, slate, limestone, travertine, granite, and so many more eye-catching stones to list. But like cement-based grout, these aesthetically pleasing rocks are porous by nature. So it's ideal to seal your stone floors and countertops.
Unsealed stone floors, kitchen backsplashes, countertops, and other natural stone surfaces are vulnerable to staining, etching, and absorbing moisture.
Liquids could penetrate the stone's porous surface and create chalky white stains or etch marks that range in size, giving it an unpleasant-looking appearance.
The good news is that you can check to see if your stone floors and countertops are sealed by doing the water drop test.
Pour a few droplets of water on the stone's surface in different areas and watch to see what happens. If that area of the stone darkens, then water is being absorbed.
This means it isn't sealed or needs to be sealed again. Once sealed, you should periodically do this test to see if re-sealing is necessary.
As you move into a newly built house, of course, you'll have your home improvement projects. With all this talk about sealing surfaces, you might think it's another task to add to your DIY list.
Before you start spending money on tools, hard surface cleaning solutions and sealant, we'll explain why it's not for everyone.
Doing It Yourself Is Not Always Best
It's a given that doing anything yourself is cheaper than someone else doing it for you.
But cleaning and sealing stone, tile, and grout isn't for everybody.
If you don't consider yourself a neat, patient, or handy person, then you should leave the hard surface cleaning and sealing work up to the professionals.
The type of work that's needed to be done is time-consuming and shouldn't be rushed. And you might think it isn't difficult, but it can feel complicated.
There are so many different applicators, cleaners, and sealers out on the market for your tile, grout, or stone surface needs. It's a burden to figure out which methods and products are best for your situation.
Then you've got to spend time learning how to apply these products properly without messing up.
On top of that, deep cleaning and sealing tile floors and grout is backbreaking labor unless you have the right tools that keep you on your feet.
Because buying a newly built home means there may be residues of debris leftover from the construction. Companies build new houses so that they are "broom ready."
So don't expect it to be spotless.
You shouldn't seal anything until that home has been deep cleaned thoroughly—absolutely free from dirt, dust, etc.
Here's why people hire professionals. Companies such as Sir Grout have the equipment, time, resources, and effort to handle the deep cleaning that's needed to seal any stone, tile, and grout in your home.
Are you
really
going to shell out $$$$ for industrial hard surface restoration equipment?
If not, the work will be laborious and take time.
Imagine working on your knees, hitting every grout line and tile in the home with some cleaning product you got off Amazon, and then sealing those surfaces after.
Look, the most valuable asset everybody has in life is time.
And you can't buy back wasted time on something you could've gotten a professional to do for you faster with customer warranties.
Going the DIY route and spending money on products, a steam cleaner or scrubber that attaches to a drill isn't the best use of your energy; you'll still have to put in the physical labor and do it right after you buy all that.
Any mistake that ruins the appearance or integrity of your hard surfaces could have you calling us in the end.
You have many home improvement projects to focus on. So make dealing with hard surfaces not one of them.
Choosing Sir Grout for your hard surface restoration needs will have you look back and think it was worth it in the end. Here's why.
We Make Hard Surfaces Look Better Than New
You want your new floors to "POP" in vibrancy and stone countertops to complement the overall beauty of your home.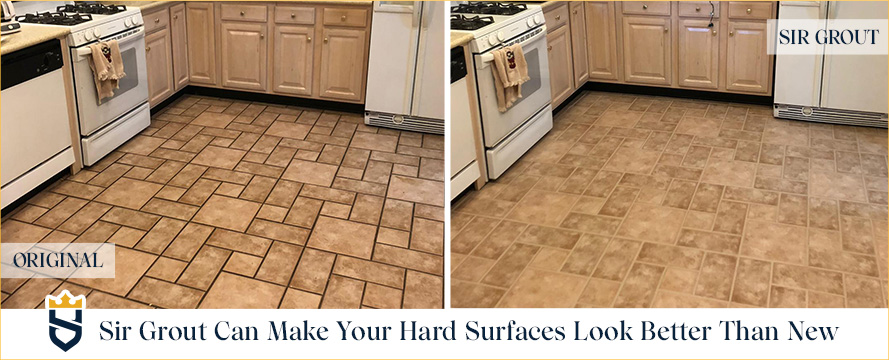 Sir Grout's highly experienced hard surface restoration technicians will design a personalized plan of action to assess your tile and grout as well as stone countertops if installed.
Here's how we bring your hard surfaces to life in less than a day.
We'll first apply our non-toxic, pH-neutral hard surface cleaner to pre-treat your tile and grout. We then deep clean those surfaces by machine with a high-speed yet gentle scrubber that extracts dirt from your tile and grout. For stubborn areas, vapor steam cleaning methods may be used.
Our pH-neutral hard surface cleaner removes dirt and embedded grime, which helps inhibit the growth of fungi or other bacteria that could cause health issues or damage.
We then apply our ColorSeal proprietary grout sealant. It not only seals your grout but evens out the color for a uniform appearance over the entire surface. Our ColorSeal treatment comes in various colors to match your tile or if you just want to customize the grout's color.
The final step is applying Sir Grout's Tile Armor product. It's a tile and grout protector that seals hard surfaces against stains and spills. Tile Armor is non-toxic, water-based, and safe for families and pets.
Our top-of-the-line products and advanced techniques ensure we can clean your grout lines, repair them where needed, and we'll seal your grout and tile to protect them from future damage or discoloration.
How We Preserve Stone Surfaces
Regardless of the type of stone surface you have, our
residential stone cleaning and color enhancement
services will keep them looking pristine as if they were just installed.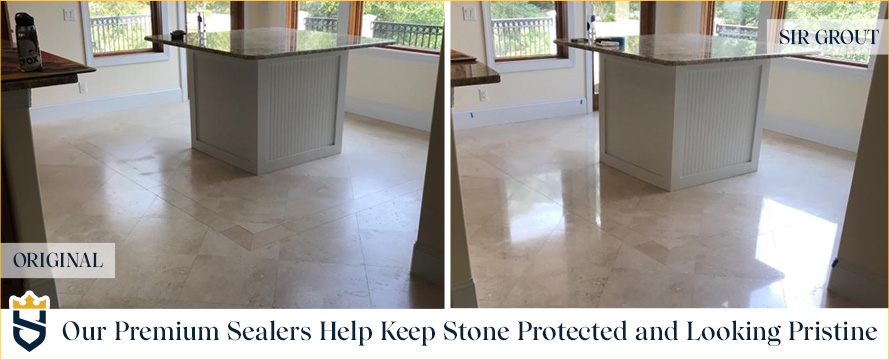 We'll properly clean, polish, hone, repair if needed, and seal stone surfaces such as marble, granite, travertine, slate, and other natural stones.
For our stone cleaning and color enhancement procedure, surfaces are first cleaned and dried to ensure proper adhesion and absorption of our premium sealant.
Sir Grout's color-enhancing sealer is formulated to darken, highlight and enhance the beauty and character of natural stone.
Our color-enhancing formula is ultraviolet light-resistant, provides maximum protection from oil and water-based stains, allows for moisture vapor transmission, and is safe for both interior and exterior applications.
Besides cleaning and sealing stone, tile and grout, we offer additional services and maintenance plans for you to choose from.
The Benefits of Choosing Sir Grout
The work we perform at Sir Grout is meant to last if taken care of properly. Eventually, your grout, tile, and stone will wear out for several reasons, such as heavy foot traffic or exposure to water and harsh chemical cleaners.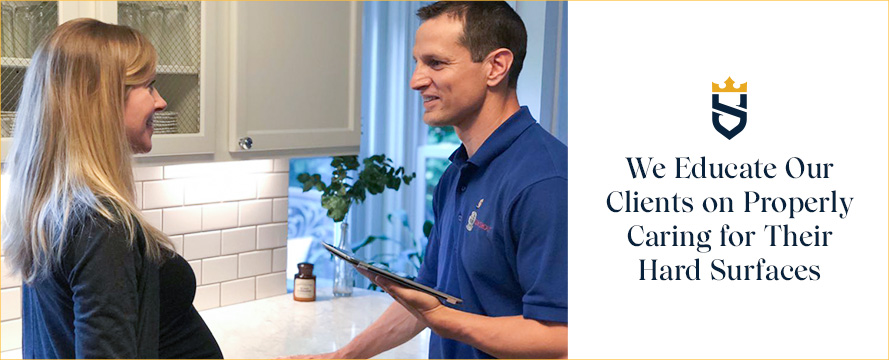 Either way, sealant will need to be reapplied to stone, tile, and grout, and those surfaces eventually need a deep cleaning.
That's why we offer flexible maintenance programs to help you preserve our work. You can choose our monthly, quarterly, semi-annual, or annual plans to prevent some common problems that can damage your tile, grout, or stone.
Check out our
residential maintenance program
that includes the deep cleaning and sealing of stone, grout, and tile; wood floor cleaning and buffing; honing and polishing of marble, limestone, travertine, and more.
We also provide recaulking services for the joints in your tub, sink, shower, etc. and grout recoloring options with a one-year warranty.
Need slip-resistant floors in your home, bathroom, or shower? Then we've got the solution for you developed by NASA's former head of coating, Dr.Shutt.
Our MicroGuard high-durability coating creates high traction walkways, and it's known to reduce slip and fall accidents by up to 90%. It's resistant to chemicals, makes cleaning easier, lasts long, it's stain-proof, keeps surfaces looking brand new, and so much more.
Another thing we pride ourselves on is educating our clients like you on properly caring for your hard surfaces.
We have a section dedicated to
tile and grout care tips
,
tips for pet owners
, and we offer
products for stone
, tile, and grout care.
Keep your hard surfaces looking their best without worry by choosing Sir Grout to handle the work for you.
Because as an owner of a new home, you've got plenty of other things to do. Taking on a massive DIY project to deal with stone, tile and grout shouldn't be one of them.
It's laborious work that requires precision, care, and expertise.
So trust us, as a leader in the hard surface restoration industry, there's no job we can't handle for you.
Whether you need stone cleaning and sealing, no sanding wood services, caulking, high-durability coatings, or complete tile and grout cleaning and restoration work, we have the products and tools necessary to complete the job.
We take our time with our customers to ensure they understand how to properly maintain their hard surfaces to stay in the best shape for as long as possible.
If your grout is starting to weaken, looks dirty and dull, or needs to be replaced completely, call us at
(239) 322-3984
or click on the "Schedule a Free Quote" button on this page to schedule your free estimate.
With Sir Grout franchises all across the country, chances are good that one of our locations is near you, standing by, and ready to assist you.