Tile and Grout Cleaners: Our Experienced Technicians in Cape Coral, FL Renovated This Tile Floor
March 17, 2018
Plank flooring is gorgeous, natural-looking, and combines all the beauty of wood with the durability of tile. It can give any room the elegant look of hardwood, even in high-moisture areas like kitchens and bathrooms. For this reason, wood plank tiles have become an increasingly popular choice for homeowners who want the stylish look of hardwood flooring but prefer a more convenient solution. Nonetheless, tiles require grout, a cement-based mixture that is very porous and needs proper care and maintenance. Over time, the grout lines absorb all sorts of dirt and grime left by foot traffic or improper cleaning methods and products. This gives the once beautiful floor a sullied, dingy appearance. When this happens, the best option is to hire professional tile and
grout cleaners in Cape Coral, FL
.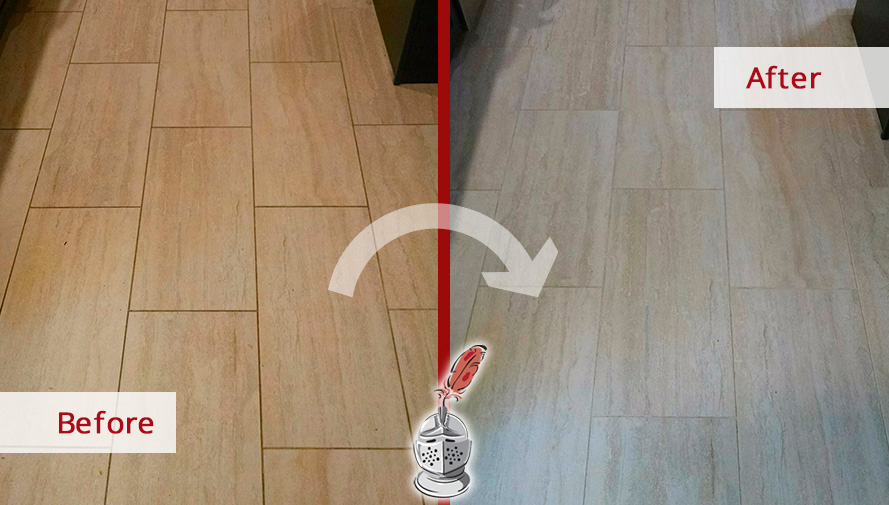 Our next client, a resident from Cape Coral, FL, was very proud of his flooring choice. The plank tiles gave the house a refined look that he and his wife loved. The couple recently had a newborn son, which meant that over the past nine months or so, their schedule had been pretty tight. With a limited amount of time, household chores, such as cleaning the floor, had become more difficult and often were left unfinished. During this period, the grout around the tiles had become muddy and grimy, caused by the accumulation of dirt left by the heavy foot traffic the house was getting from all the friends and family that came to visit and congratulate the couple. Displeased with the appearance of his floor, the husband got time off from work and tried to solve the problem by himself.
When the weekend came, he was ready to clean the floor using some methods he found online. He had baking soda, vinegar, and some soapy cleaners, and as the instructions declared, he started the cleaning routine. Unfortunately, after several hours of scrubbing, brushing, and rinsing, he didn't notice any significant changes in the surface. This was not the outcome the owner desired, so he decided it was time to look for qualified assistance. He went online and searched for experienced tile and grout cleaners in Cape Coral, FL, and in the top search results he found Sir Grout SW Florida. He was impressed with all the positive comments and testimonials we'd received from previous clients, and after carefully browsing our "Before and After" gallery, he was convinced we had the solution for his problem. The owner immediately called us to schedule a free in-home consultation.
We arrived at his residence on the appointed date to evaluate the floor and to offer the most effective solution for its restoration. After the greetings and introductions, we promptly began the assessment. Upon closer inspection, we noticed the issues right away. The grout lines were filled with dirt, grime, and soap scum. The plank tiles, on the other hand, were dull and required proper cleaning and treatment. We explained that grout requires more attention because it is prone to absorb moisture from the environment, soil from foot traffic, and fungi build-up. Due to the wear and tear these lines receive, they need to be properly sealed to prevent future damage. Also, improper cleaning methods and harsh products can leave scratches on the tiles and dull the surface. We concluded that the floor needed professional maintenance to be restored.
We offered a tile and grout cleaning service using our advanced, top of the line products and techniques to repair the grout and restore the plank tiles to their prime days. We would seal the grout lines using our proprietary ColorSeal, a high quality waterproof sealant that would shield the grout against stains, dirt, mold, and mildew. We would also buff the tiles with our TileArmor to provide an extra layer of protection to the tiles and ensure long lasting, easy to maintain results. We assured the owner that after we completed the job, the floor would look brand-new and pristine. He was delighted to hear this, and we agreed to set up a date for the service.
We returned to our clients' house on the scheduled date and were ready to begin the restoration of the floor. It was a thorough process that consisted of several steps and exceptional methods. We started by making sure the floor was completely clean using our proprietary tile and grout cleaner. With a high-speed, gentle scrubber we got rid of all the dirt, grime, and soap scum from the grout lines. We kept cleaning until the surface was spotless. Then, we meticulously replaced the old dirty grout with our state-of-the-art Epoxy Grout. This high quality product provides a resilient solution designed to endure wear and tear for a long time, even in moist environments.
After this was done, we proceeded to apply ColorSeal to seal the grout lines and give them a uniform color. This unique product offers two benefits: it protects the grout against stains, water, mold, and mildew, and it gives the lines a brand-new look with the color desired by the client. We finished by buffing the tiles with our exclusive TileArmor. This water-based and non-toxic product is safe for everyone in the house and it wards off damages from external agents for a long time.
When we finished the process, the floor had gained a breath of new life. The plank tiles looked renewed, with no traces of scratches or stains, and the grout lines had a flawless, unsullied glimpse of perfection, free of dirt or blemishes.
We invited the owners to see the outcome of our service. They were amazed by our performance and how our experienced work completely transformed their floor. Relieved and thankful with this result, they stated that from that point on TagSiteName would be their company of choice for hard surface restoration and that they would recommend us to all their friends, family, and neighbors. Our top-notch products and high-level techniques ensure long term results. We also take time to train our clients on how to perform proper maintenance on their surface.
Before leaving, we gave our clients some recommendations about how to preserve the renovated condition of their floor:
Use proper and safe cleaners such as pH-neutral, soap free cleaners, which are harmless for the grout and don't leave any sticky residue. Soap-based and acidic cleaners are harmful for the grout because they leave residue and can break the grout lines. These cleaners should be avoided.
Clean the floor properly. Rinsing a dirty mop into the cleaning solution leads to grime build-up. For this reason, always use a clean mop. Also, our ColorSeal makes it easier to scrub the surface; therefore, excessive scrubbing is not necessary.
Keep the floor dry and well ventilated. If any spill occurs on the surface, it should be removed immediately. Use a towel or a terry cloth when drying the surface to prevent scratches on the tile. Also, make sure to never leave cleaner residue or dirty water lingering for long periods of time.
These easy to follow steps and our high quality, experienced service, provide long lasting results and guarantee easier, better, and more effective cleaning routines.
If you are looking for professional assistance to restore your tile floor, our tile and grout cleaning service is the best choice for you. Sir Grout SW Florida offers top of the line, long term results that will give your surface a new life. As a leading company in the hard surface restoration industry, we offer the most advanced techniques to help you with your problem. Don't hesitate to contact us by calling
(239) 322-3984
or by filling out our "Request a Quote" form for a free in-home consultation. We will be glad to attend you. Don't forget to subscribe to our newsletter to receive our latest info and promotions.
If you found this article helpful then let us know in the comments section below. Likewise, feel free to share it using the share options below. Want us to cover another topic of your interest pertaining to Hard Surface Restoration? If so, then like us and follow us on social media, and post to any of our social media profiles the topic you'd like us to discuss:
Facebook Sir Grout SW Florida
,
Instagram @sirgrout
, and
Twitter @SirGrout
.