What Can I Use To Clean Natural Stone?
October 02, 2023
Unfortunately, one of the most common reasons homeowners request our professional
stone cleaning and sealing
services is because they're using inappropriate cleaning products on their stone surfaces.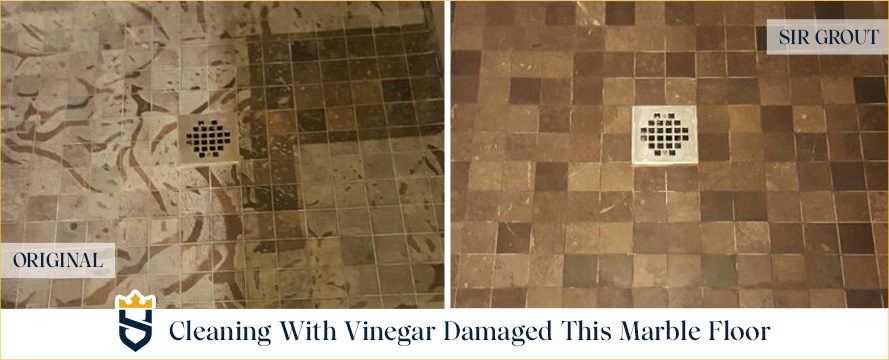 It is not until the stone is damaged that people ask, "What can I use to clean natural stone?"
The vast majority of people don't pay attention to what is in the cleaning products they bring into their homes. Although most prove to be quite effective at doing their job, some might not be safe for all your surfaces.
Even hiring a cleaning company to clean your stone surfaces does not guarantee they are using stone-safe cleaners. It's pretty common to hear that customers have no idea what cleaning companies are using to perform their service. Some have claimed companies are using a batch of their own "secret formula" to get the job done.
The problem here is that these companies are getting paid to clean, not to look out for your stone surfaces. Therefore it's not uncommon to see stone surfaces suffering damage from these services in the long run.
Here are some common misconceptions about cleaning products being used on stone surfaces. Later, we'll show you what products you should be using on your natural stone surfaces and some tips to get your cleaning routine organized.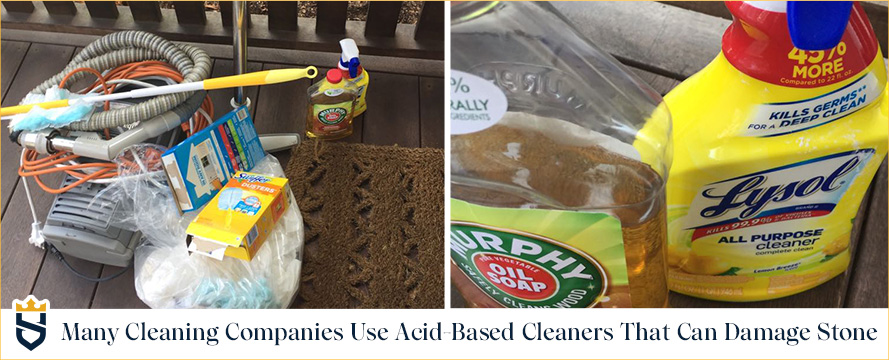 Unsafe Cleaners for Stones Surfaces
Common Household Cleaners
It's a very frequent mistake to think a single cleaning product can work on all surfaces. Sure, they might clean your surfaces.

But the thing with most common household cleaners is that the same abrasive chemical properties that make them effective can also break down the stone slabs' or tiles' protective seal.

That breakage makes these surfaces vulnerable to stains, scratches, etches, and permanent dullness.




Trendy DIY Cleaners
Nowadays, organic is the trend when it comes to cleaners.

From Twitter to YouTube, every cleaning guru recommends cleaning every surface in the house with vinegar and lemon juice. However, just because they're natural cleaners doesn't mean they won't damage your stone surfaces.

Some natural stones like marble and travertine are highly porous and mainly composed of calcium carbonate, which is very sensitive to acids.

Both lemon and vinegar are extremely acidic. When used on stone surfaces, it will penetrate the surface and cause a chemical reaction with the calcium in the stone, which will gradually produce etch marks and dullness.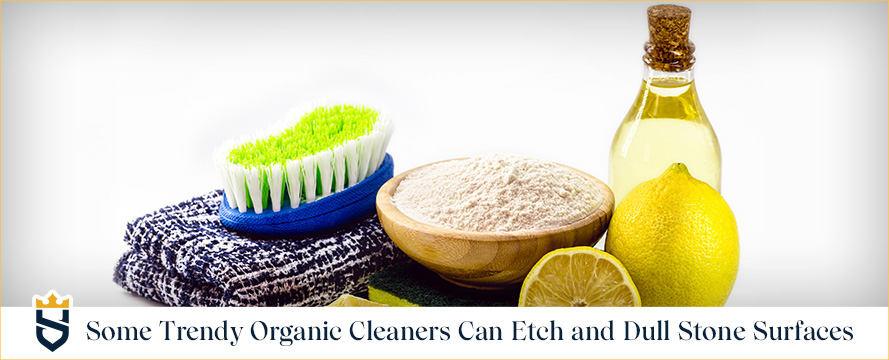 What all these hazardous to stone products have in common are their pH values. Those chemical cleaners that are high in basicity (bleach) or in acidity (ammonia) tend to cause serious damage to the stone's integrity.
The cleaners you want to use on your hard surfaces should have a pH value that's right in the middle.
Handy Tips for Cleaning Stones Surfaces
Use Specially Formulated Stone Cleaning Products
Since stone surfaces are quite an investment, using a specialized stone-safe cleaner is better for the long-term preservation of it.

Such as Sir Grout SW Florida's Natural Hard Surface Cleaner, which removes dirt and stains, guaranteeing its integrity without harming the surface because of its pH-neutral solution.


There will be times when pH-neutral cleaners are simply not strong enough for the task at hand.

For these situations, there are alkaline-based cleaning products capable of removing heavy dirt, oil, grease stains, and excess sealant due to over-application. However, these harsh cleaners should be used with care or by people with experience and knowledge.

If you don't have a specially formulated stone cleaning product, then use a pH-neutral cleaner since it's not too acidic or basic and won't cause any negative effects.



Use Different Color Rags for Each Surface
Using specialized stone cleaners might not be enough if you're using the same rag for all your surfaces. If the rag is not rinsed out and cleaned thoroughly, then you're most likely using a contaminated towel with leftover chemicals to clean other surfaces.

This can be harmful to your stone surfaces and cause damage over time.

To solve this problem, we recommend using a different color rag for each type of surface and cleaner. This is a simple version of what the professional cleaning industry has been doing for years to organize their cleaning tools in an effort to avoid cross-contamination.


When implementing your own color-coded program, try matching the color of each towel with the color of the bottle or chemical you plan to use it with.

For example, if the bottle of your stone-safe cleaner happens to be green, consider matching it up with a green rag. Also, try buying bright-colored rags. This way, you will know when it's time to buy a new pack when they fade into a dull color.


If You Only Have One Rag, Make Sure It's Properly Sanitized
If you only have a single rag for all your surfaces and urgently need to clean them, or if color-coding isn't for you, it's crucial to sanitize your cleaning rags to avoid cross-contamination.

Clean your rags in the washer at a temperature of at least 140 to 150 degrees. If your washer doesn't reach those temperatures, try boiling your rags in a large stockpot.

This will get rid of any germs or left-over chemicals from previous cleaning sessions. Let your rags dry in the sun, as ultraviolet rays are natural disinfectants.



Let Cleaning Crews Use Your Stone Cleaning Solutions and Tools
Finally, purchase your own hard surface cleaning products for natural stone and soft to medium nylon-bristled brushes.

If necessary, lend these cleaning tools to the cleaning company if you plan on hiring them to clean your home. By equipping them with the right hard surface cleaning products and specifying which tools to use on each surface, you'll know that your hard surfaces are clean and protected.
Want To Know More About Our Services?
For more information on maintaining your stone surfaces or hard surfaces in general, contact us at
(239) 322-3984
. If you feel your stone surfaces need professional help, Sir Grout SW Florida has expert technicians ready to provide you with the right hard surface restoration services for your home or business at a fair price.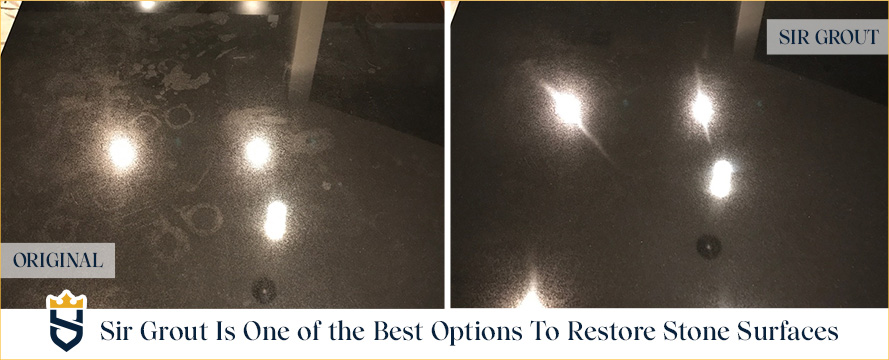 Check our
location
to find a Sir Grout SW Florida near you and schedule a free in-home consultation. Subscribe to our
newsletter
to learn more about our latest ongoing promotions.