5 Tips for Keeping Grout Clean
December 01, 2022
At a glance, grout complements the way tiles look.
But when they're dirty, it can easily ruin the overall appearance of your home. In truth, the state of your grout says a lot about the structural integrity of your hard surfaces, such as your tile floors and bathroom walls.
That's why
grout cleaning
is an essential step in your overall cleaning routine if you want to avoid major repairs in the future. You have to be consistent in upkeeping your tile surfaces, especially if your grout is naturally prone to stains.
Keeping your grout maintained and cleaned is vital for its health and yours to some degree. Grout serves multiple purposes beyond aesthetics too.
They strengthen the bond between the tiles and keep them set in place. Grout helps prevent water and dirt from seeping in underneath your floors.
Most homes have stone or ceramic tile surfaces with sanded cement-based grout installed between the tiles. Unsanded grout is typically used for shower walls and other vertical applications. But besides that, what do these types of cement-based grout have in common?
They're both porous. That means within the cement's material, there are extremely small holes where tiny particulates of matter can get trapped inside the grout, and it can absorb water easily.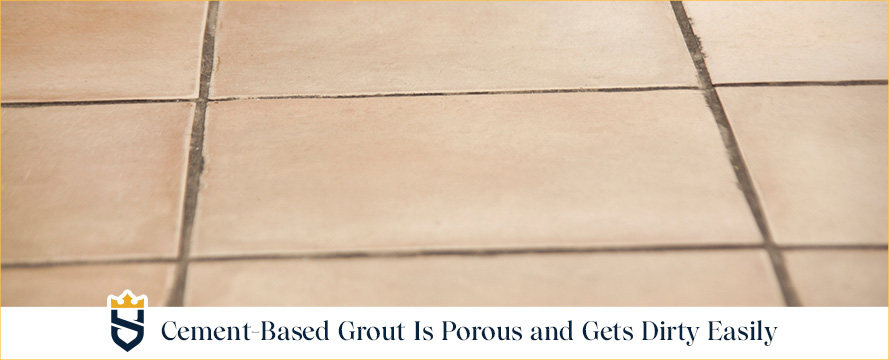 As you clean, things such as dirt, debris, liquid spills, soap scum, and other microscopic contaminants can get embedded into the grout's pores. Eventually, your grout will stain if you don't prep your areas and surfaces before cleaning.
That's why you should vacuum your tile floors first before mopping. At a minimum, you can sweep, but vacuuming is much better.
When you mop a floor that isn't free of dirt, you're just creating mud. Since grout is porous, you can imagine that mud is being trapped inside your grout.
As months go by of this happening, it won't be easy to get these stains out without using products, and even fewer chances if years go by. By then, you'll need professional help to conceal the discoloration of your grout.
The worst-case scenario is rotting grout due to mold growth, which is something to avoid for obvious health reasons as well. When grout erodes, it cracks, and that could allow water to seep in behind the floor tiles or bathroom walls.
Fortunately, there are ways to prevent these issues early on, assuming you clean your home thoroughly. Let's go over five key tips to keeping grout clean, how to help protect it, and some steps you can take to avoid the problem altogether, starting with tip number one.
Tip #1: Make Sure Your Grout Is Properly Sealed
Unsealed grout gets dirty quickly, and over time deteriorates. Cement-based grout should be sealed for long-term peace of mind, and it makes your cleaning routine simpler and visibly cleaner.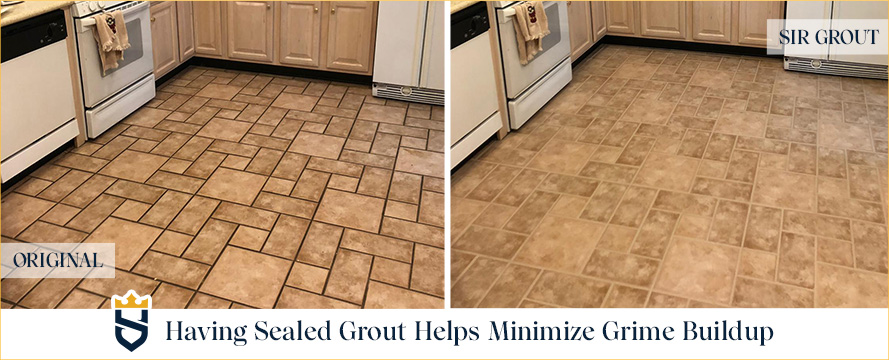 There are different types of grout sealants available for purchase on the market. Some of which are penetrating, impregnating, and non-impregnating types of grout sealants. We could get into it, but that's a separate blog post.
Just know that some sealants help keep the grout protected for an average of two to three years. With that said, you do have to replace grout sealant since it naturally erodes over time.
You can seal the grout lines yourself, but it's like an art form that requires precision and care. So, consider having a professional do it to yield better results and the warranty benefits that may come with it.
A professional service will ensure all traces of dirt are removed off the floors, using an industrial-strength vacuum/scrubber to extract dirt from tiles and grout with steam. They'll give you more customization options and make additional repairs in areas where the grout has sustained damage.
Either way, having sealed grout helps repel all sorts of external elements. It minimizes grime buildup on surfaces and allows the grout to repel moisture, mold, and mildew.
For more information, read our blog "
Is It Necessary to Seal Grout
" to learn all the benefits of having your grout sealed every couple of years.
Tip #2: Use Clean Tools and Change Mop Water Often
This one's probably a no-brainer, but it's often overlooked. We mentioned it earlier, but grout's porous nature allows small dirt particles to get trapped within it. Dirty water used to clean your floors pushes the dirt into the grout and will stain it over time.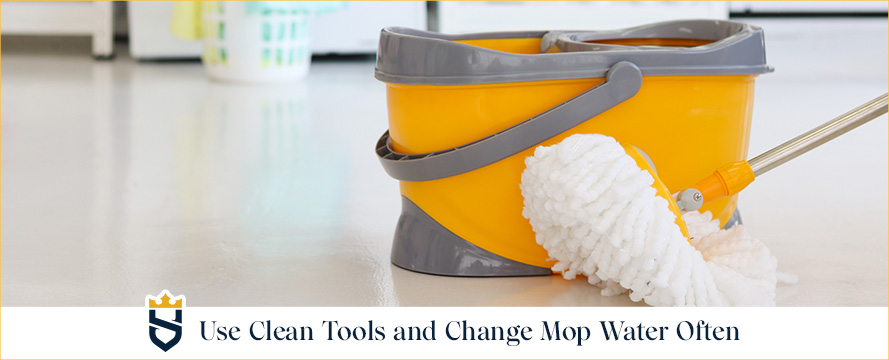 Surprisingly, people tend to use the same mop week after week, and the dirty grout goes unnoticed. Then they're shocked when they lift the rug off the floor to notice how one area of their tiles looks cleaner than the rest of the floor.
Wash out the tools you use to clean and scrub your floors often and replace them when necessary. Before cleaning, remove objects with flat surface areas that are directly in contact with your floors, such as rugs and doormats.
We cannot stress this enough but always vacuum or sweep your floors before mopping or wiping your floors down with anything wet.
Tip #3: Choose the Right Cleaners and Scrub Grout Properly
Regularly cleaning and scrubbing your tiles and getting in between the grout lines are the best way to minimize the chances of mold growth, especially bathroom tiles.
However, you've got to use the right products. Those organic cleaning solutions from the food pantry aren't going to cut it.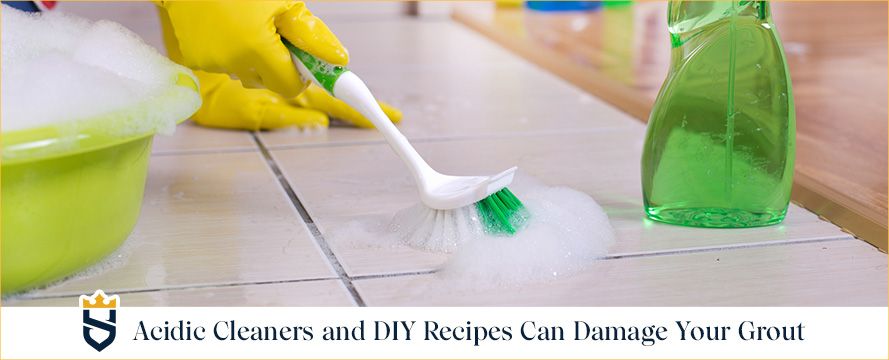 Contrary to popular belief and Pinterest cleaning tips, vinegar, lemon, and baking soda, are harmful to grout. Yes, the grout may appear to look clean. But when you use too much vinegar, you're peeling a microscopic layer of grout each time.
On the other side, chemical cleaners such as bleach or ammonia can decay grout and cause etch marks that ruin its appearance. And soaps can cause a buildup of dirt residues and leave behind a sticky film.
It's far from ideal if you regularly use any of these solutions above on your tile floors and grout. What you really should be using is a near-neutral cleaner. These cleaners are as gentle as water, and they aren't abrasive to surfaces at all.
Sir Grout SW Florida's Natural Hard Surface Cleaner
is perfect for your grout cleaning routine.
It does not contain abrasive ingredients that could potentially damage your grout and provides the maximum cleaning power for all high-traffic areas or places where grout is installed. You'll get a healthier environment while preserving the quality of your grout in the long run.
Always stick with near-neutral cleaning solutions. Now, here's how you scrub in between those grout lines properly.
First, let the cleaner sit on the tile for around five to ten minutes. It needs some dwell time to do its job. The near-neutral solution loosens the dirt before you scrub. If you're not patient, it means you'll have to scrub harder, and you may put your grout at risk.
After a few minutes, scrub off the dirt and grime using non-abrasive brushes to avoid scratching the grout's surface. Pick brushes that use medium to hard-strength nylon bristles. Do not use steel wool or wire brushes. With enough force, you will damage your tiles and grout using these kinds of brushes.
Keep in mind that these brushes vary in size and angles. Some are narrow enough to get in between grout tile lines, while others cover a larger surface area. Stiff handheld brushes come in handy when scrubbing off soap scum from your shower's grout and tile.
Get the brush that matches the size and angle of the job. To make life easier, so you don't have to work as hard, there are a variety of electric scrubbers that come in all sizes with different brushes that you can swap for the job you need to do.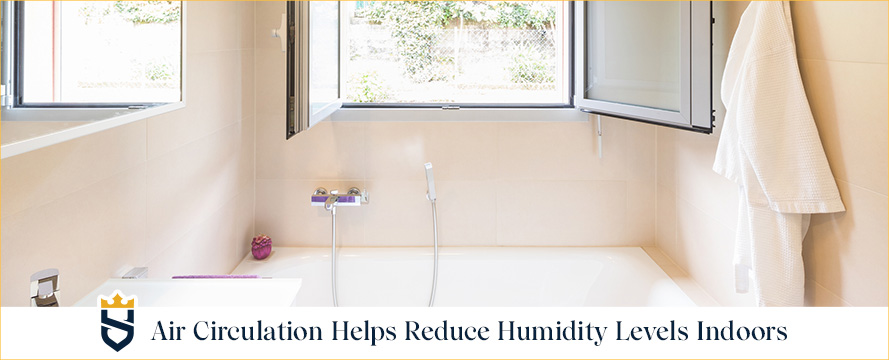 Tip #4: Keep Rooms Well-Ventilated
This tip is more for bathrooms areas and rooms that are susceptible to high moisture.
Humidity can breed mold and mildew on grout. It's best to circulate the air in areas prone to being damp. If your home's layout doesn't allow for proper air ventilation, you need to try and wipe the moisture off the grout's surfaces on walls and tiles.
For example, kitchens can become steamy while cooking. So, crack open a window to let that humidity out or turn on the fan above it if you have one.
After a shower, open a window in the bathroom for 15 minutes or run the exhaust fan for about 20 minutes. If those options don't exist, you could leave the door open to let humidity escape.
Suppose you're feeling extra ambitious in keeping humidity levels down after a shower. In that case, you could use a hand towel to dry your shower walls and floors off.
But let's be honest, that's unrealistic; however, a good shake of the shower liner and curtain is a doable task. The goal is to shake and open the shower curtain a bit for it to dry.
Hang those bath towels to dry as well because, like shower curtains, they trap moisture and contribute to higher humidity levels.
Tip #5: Consider Alternative Grout Solutions
As we mentioned earlier, cement-based grout is porous and gets dirty easily.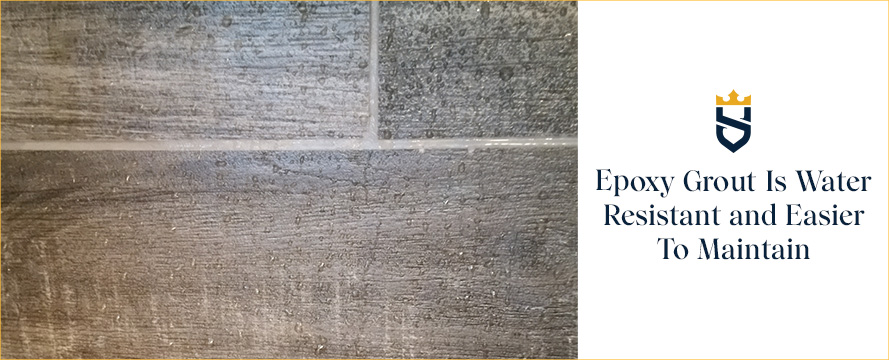 Once the dirt gets embedded, getting it off can be a real challenge. Sometimes it gets to a point where regrouting is the only way around the problem when grout becomes permanently stained. If you can replace it, use epoxy grout as an alternative solution.
You may not have the choice if you buy a home, but if you are installing tiles, epoxy grout is the best choice.
Epoxy grout removes many of the drawbacks that make cement-based grout so prone to staining, etc. Epoxy grout is known for its durability, water, and stain-resistant properties, and it doesn't shrink, discolor or break easily.
It is non-porous and perfect for bathrooms or areas that frequently become wet. There's a reason why epoxy grout is favored by grout renovation companies when it comes to repairing cracks and other types of damage.
Sir Grout SW Florida has installed epoxy grout in a countless number of restoration jobs. The end results have always marked an improvement in the grout's long-term maintenance.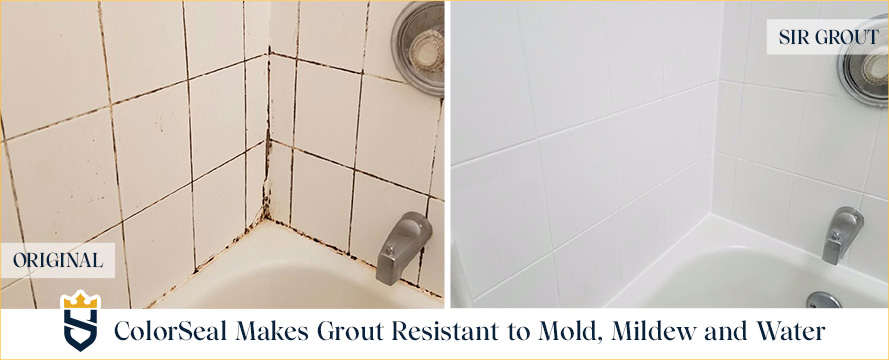 The Premier Choice for Your Grout Restoration Needs
Grout is susceptible to many outside issues, including rust and dye stains, mold and mildew, discoloration, uneven coloring, embedded dirt and grime, or mineral deposits (also called efflorescence).
That's why it's so important to pay special attention to keeping grout lines clean. Unfortunately, new homeowners may purchase a home where the grout hasn't been maintained and might be forced to replace it.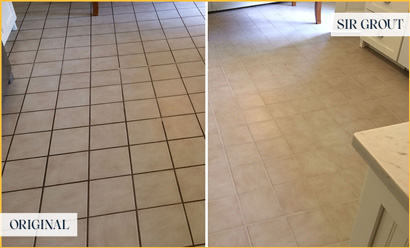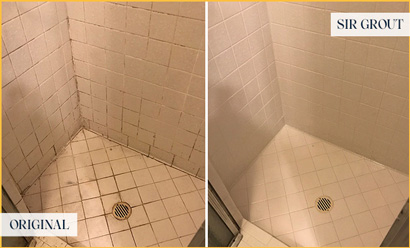 It's possible to extend the life of your grout and keep it looking good. But even the best-maintained grout can become worn and dirty over time. In that case, professional help is the best approach for most people, and you can maintain their work after they're done.
Sir Grout SW Florida is the leading hard surface restoration company when you need something as simple as grout cleaning or you need your grout completely redone in your home.
Our expert technicians use proven methods and the best products to handle any issues you may have with your tiles, grout, and so much more! Sir Grout SW Florida offers a free consultation to assess the tile and grout situation accurately and provide solutions tailored to your needs.
If you simply need your grout cleaned, we can do that for you. If we can restore the grout without replacing it, we will do that for you too. If your grout is in particularly bad shape, we will replace it for you and give your tile installation a fresh, new look.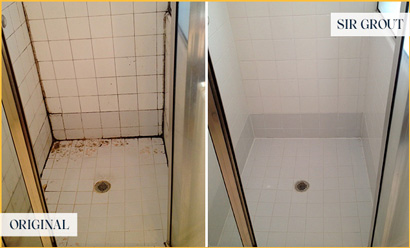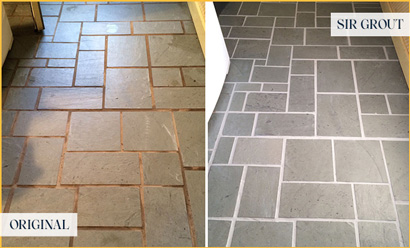 Sir Grout SW Florida technicians will always keep you in the know of what they are doing and explain the process each step of the way. They will give you extensive tips for keeping your grout in great shape and will recommend cleaning products that are ideal for the job.
Our technicians apply Sir Grout SW Florida's own ColorSeal solution to your grout lines, making your grout look like new again. Acting like a shield, ColorSeal is the most popular and effective grout sealing and recoloring treatment. This amazing process makes grout stain, water, mold, and mildew resistant.
That's a promise and a guarantee from us to you.
Besides grout restoration, Sir Grout SW Florida leads the way in stone cleaning and sealing, grout recoloring and resealing, no-sanding wood armor, stone countertop sealing, high-durability coatings, and caulking.
Whatever issues you may be having in your home regarding hard surfaces, we can help.
Our years of experience, attention to detail, and commitment to excellence make us your premier choice for hard surface restoration and repair.
To find out more about the job we can do for you, click on the "Schedule a Free Quote" button on this page or call us now for a free estimate at
(239) 322-3984
.
Let Sir Grout SW Florida bring your dirty grout lines back to life again.